I'm a value guy.  When I screen for stocks I screen for good values, high dividend yield, currently oversold, good sales, etc. etc.  Vivo Participacoes S.A. (VIV) has been showing up in my value screen for some time now.  Its most significant "value" attribute is its current 7.7% dividend yield.  Its price to free cash flow ratio (currently 13.33) and solid sales over the last 12 months are also signs of great value.
Yesterday I decided to screen for growth stocks in an attempt to better diversify my value portfolio.  Guess who showed up.  Yup, Vivo Participacoes S.A. (VIV).  This stock has been growing consistently since September, 2010.  With a price to sales ratio under 2 and positive EPS growth quarter over quarter and year over year VIV is, without a doubt, a strong growth play.  In fact, with stocks like TSU and TSP joining VIV, it appears that Brazil's entire wireless communications sector is booming, but let's not lose focus.
VIV's Q1 results, released on May 12th, showed that the company is continuing to grow.  Operating cash generation reached 826 million reais, up 110.2 percent.  The company posted "…a net profit of 710.2 million reais ($439 million) in the first quarter, up from 192 million reais a year earlier." – Reuters
The company stated, "The consolidated net profit is around three times higher than that in the first quarter in 2010, reflecting better operational performance, lower depreciation expenses and better financial results."
VIV is, without a doubt, solid.
And like many growth stocks it is also currently trading in a strong, up-trending price channel (see graph below).  This price channel reflects the stock's consistent growth and investors' increasing confidence.  In summary, VIV looks to have the best of both the value and growth worlds.  I don't see this stock slowing down any time soon.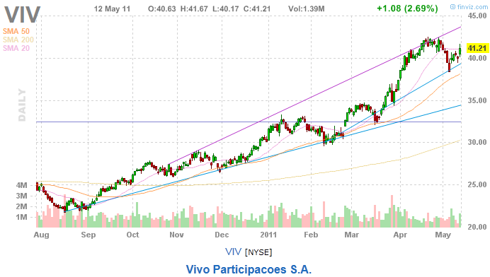 Original post:  http://seekingalpha.com/instablog/908537-michael-lee-wealth-advising/177740-viv-a-value-stock-in-a-growth-stock-s-clothing
Share